Like all business strategies, social media requires reporting and analytics to determine how well it's working. Social media analytics is about gathering data from your social accounts and campaigns. You can then use it to track and improve performance.
The information you get from social media analytics tools will help you determine which strategies work best. You'll also see what requires tweaking, and where to focus your time, effort, and budget. The best of these tools will also help you create reports to share with your team, and with your boss.
In this post, you'll learn about some of the best free social media analytics tools available, along with some more robust paid options. We'll cover how to use them most effectively to analyze and improve your social media results.
Bonus: Get a free social media analytics report template that shows you the most important metrics to track for each network.
11 of the best social media analytics tools
Key benefits: Analytics from every network in one place with easy-to-understand reports
Paid tool
Hootsuite Analytics provides a full picture of all your social media efforts in one central dashboard. This simplifies your social media analytics work. It saves time and makes it easy to compare aggregate results across networks.
You'll see key metrics for each of your social posts, including:
Clicks
Comments
Reach
Shares
Video views
Video reach
You'll also see metrics for each of your profiles, including follower growth over time. You can select the metrics that matter most to you so you can see all the relevant results at a glance.
You can use the customizable templates to track, analyze, and monitor your performance on each social network. And with just one click, you can export these reports to Excel, PowerPoint, PDF, or CSV. The result is a clear, easy-to-read social media analytics report to share with your team, your clients, or your boss.
Hootsuite Analytics also provides a clear picture of social team performance metrics, including:
Productivity
Response time
Resolution time for assigned posts, mentions, and comments.
Hootsuite Analytics is included in the Hootsuite professional plan, with a 30-day free trial available.
Learn more: Hootsuite Analytics free trial
Key benefits: Analyze brand sentiment and customer demographics in real time
Paid tool
Hootsuite Insights is a social listening tool that doubles as an analytics tool. It analyzes your earned social mentions so you can measure social sentiment. Meanwhile, word clouds provide a visual representation of what people are saying about your brand online.
Hootsuite Insights also allows you to analyze data about your audience demographics. Key audience details include gender, location, and language. You can compare demographics across networks, or look at the aggregate picture of your audience for all networks combined.
All of this information gives you a clear picture of how people feel about your brand. This is critical information for an effective social media analytics report. This is the data that tells you whether a spike in mentions is a victory or a disaster.
Why analyze the social conversation about your brand? It reveals key opportunities to reach your audience where they already spend time online talking about your brand and your products.
You can also use Hootsuite Insights to conduct a market analysis. The tool tracks conversations on news sites, forums, and blogs, as well as social networks. This gives you a full set of analytics data from across the social web.
Learn more: Hootsuite Insights powered by Brandwatch
Key benefits: Track how organic and paid social impact real business goals and get recommendations for how to improve
Paid tool
Hootsuite Impact provides an in-depth look at the performance of your organic and paid social posts. It then compares that performance to specific business goals, like sales and leads generated. Next, it recommends actions to improve your results.
Hootsuite Impact integrates with tools like Google Analytics, Adobe Analytics, and your ad accounts on the various social platforms. This gives you a full picture of your post and campaign results, all in one place. With organic and paid analytics side-by-side, you don't have to gather data from separate tools to create a social media analytics report.
Instead, you see exactly how much revenue all your social efforts generate, so you can prove your social ROI. Keep in mind that ROI is not only about sales generated. Hootsuite Impact uses a custom ROI formula developed specifically for your business. This gives you the most relevant and realistic analytics data for your organization.
You'll also get a clear breakdown that shows you exactly how to replicate your successes and improve in the areas where you're falling short.
To get the best insights from social analytics, you need to understand how other businesses in your industry compare. Hootsuite Impact shows how your results stack up against your competitors, so you can spot opportunities to improve.
Learn more: Hootsuite Impact
Key benefits: Track and analyze data from more than 95 million sources, including blogs, forums, and review sites, as well as social networks
Paid tool
Brandwatch is a powerful tool with five easy-to-use social media analytics report templates:
Summary: A high-level view of social conversations about your brand, competitors, or keywords.
Trends: A report on the conversations and accounts influencing a specific topic or hashtag, including mentions per hour or minute.
Reputation: A checkup on sentiment trends you might need to monitor or address.
Influencers: A report to help you identify influencers relevant to your brand and analyze their activity.
Competitor comparison: Benchmarking data for conversation volume, sentiment, and share of voice.
Learn more: Brandwatch Hootsuite Integration
Key benefits: Monitor conversations from more than 150 million sources to analyze engagement, potential reach, comments, sentiment, and emotions
Paid tool
Talkwalker offers analytics related to social conversations beyond your owned social properties, including:
Mentions
Brand sentiment
Important influencers
Author lists
You can filter by region, demographics, device, type of content, and more.
Bonus: Get a free social media analytics report template that shows you the most important metrics to track for each network.
Talkwalker is especially useful to spot activity peaks in conversations about your brand. This can help you determine the best times for your brand to post on social media.
Learn more: Talkwalker Hootsuite integration
Key benefits: See how people are engaging with your Facebook Page, understand your audience, and track your Facebook ad performance
Free tools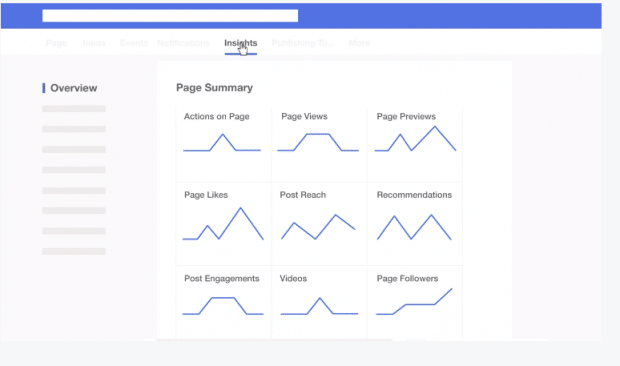 Source: Facebook
Facebook actually offers three built-in social media analytics tools. Since they all cover aspects of Facebook Page analytics, we're treating them as one tool in this post.
Here are the key data points you can collect from each of the three in-platform Facebook analytics tools.
Facebook Page Insights: Page and post engagement, post and story reach, recommendations, responsiveness, video views, follower growth, orders and earnings, when your audience is online, and competitor benchmarking.
Facebook Audience Insights: For both your existing audience and the overall Facebook audience, track demographic factors like age, gender, job title, and relationship status; interests and hobbies; life events; and which other Facebook Pages they like.
Facebook Ad Center: Ad spend, people reached, post engagement, and link clicks.
Learn more: How to use Facebook Page Insights, How to use Facebook Audience Insights
Key benefits: Understand the performance of your paid and organic Twitter posts and learn which other Twitter users have the most potential to amplify your content
Free tool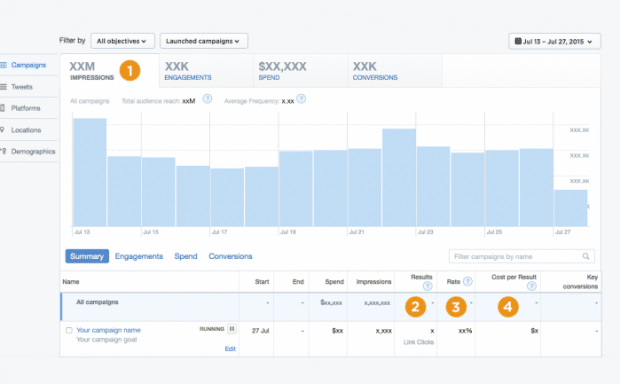 Source: Twitter
Twitter analytics is divided into three main sections. There's the "Account home" overview, the Tweet activity dashboard, and the campaign dashboard. Here's what you can track in each section:
Account home: This screen offers monthly highlights. You'll find your account's top tweet, top follower and top mention. It's a good place to get a snapshot of your best performing content and identify potential influencers or brand ambassadors.
Tweet activity dashboard: Track the engagements and impressions on your tweets over a selected period. You can click on any Tweet to get more data, including video views, link clicks, retweets, replies, and more. Click Top Tweets to get a list of your best performing Tweets with all of their metrics.
Campaign dashboard: Track your Twitter ads. Metrics include impressions, reach, engagement rate, and cost per action. If you set up conversion tracking, you can also get details about how your Twitter ads drive conversions on your website.
Learn more: How to use Twitter analytics
Key benefits: Learn about the demographics of your Instagram audience and track the performance of your Instagram posts and Stories
Free tool, only available to business and creator accounts
Business and creator accounts can use Instagram Insights to track audience and activity metrics. The information is divided into three main sections:
Content: Track how individual posts and Stories perform with metrics like likes, replies, and sticker taps.
Activity: Track how many people see your posts and Stories. You'll also see how they find your content, and how many interactions (like profile visits) and your content receives.
Audience: Learn about your audience demographics and see when they are most likely to be on Instagram.
Learn more: Instagram analytics and metrics to track
Key benefits: Understand the reach of your Snapchat content and learn more about your audience
Free tool, only available to Snap Stars and those who have a large number of followers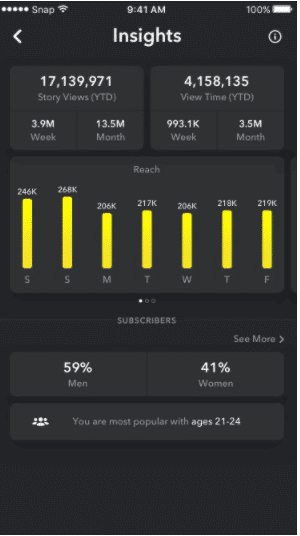 Snapchat Insights are only available to users with a high number of followers. Snapchat doesn't define this number specifically. To check if you have access, go to your profile screen and look for the Insights option.
Here are the key metrics you can track with Snapchat Insights:
Views: Find out exactly how many people are viewing your snaps, and for how long, broken down by week or month.
Reach: How many unique views your receive per day, plus average view time and completion rate.
Audience: Learn about your audience's top interest and lifestyle categories, as well as the top regions where they're located.
Learn more: Snapchat Insights: How to Use the Analytics Tool (And What to Track)
Key benefits: Understand your Pinterest audience's interests and track key metrics for paid and organic Pins
Free tool
Pinterest's built-in social media analytics tools are divided into two main sections. These are Audience insights and Pinterest Analytics. Here are the key details you can track and analyze with each:
Audience Insights: Top categories and interests, affinity, age, gender, location, and advice.
Pinterest Analytics: Track key metrics like impressions, engagements, video views, and link clicks. You'll also find Pinterest-specific stats like saves and closeups.
You can view this information for organic Pins, paid Pins, or all of your Pinterest content.
Learn more: A Simple Guide to Using Pinterest Analytics
Key benefits: Understand who's visiting your LinkedIn Page and evaluate the effectiveness of your posts and recruiting efforts
Free tool, only available to Page admins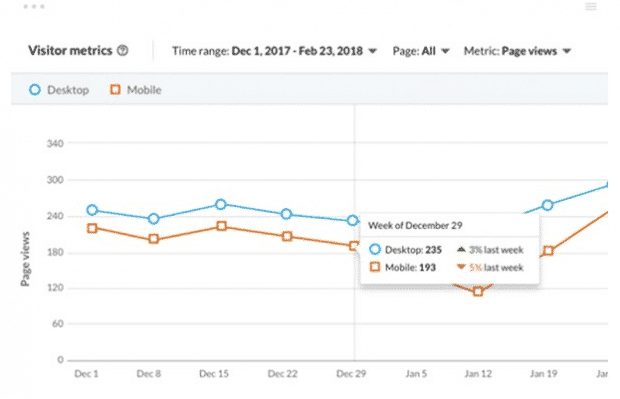 Source: LinkedIn
LinkedIn Page Analytics provides data on three key areas of your LinkedIn efforts: your posts, your page, and your recruiting. Here's what you can measure and track in each area:
Updates: Track impressions, reactions, comments, shares, and other engagement for both paid and organic posts.
Visitors: Track how many people visited your page. Learn about their demographics, including device type, job function, location, seniority, and industry.
Followers: Discover the same kinds of demographic info, but for followers instead of visitors.
Learn more: LinkedIn Analytics: The Complete Guide for Marketers
How to use social media analytics to measure success
Now you know how to gather and track all of your important social media analytics data. Next, it's important to think about how to use the information to measure success and guide your social media strategy.
Here's a simple three-step process:
1. Set SMART goals
Goal-setting is an important part of any social media strategy, and analytics provide important data to help steer your goal-setting process. SMART goals work particularly well with analytics-based goal-setting and reporting. They are by definition clearly measurable.
Remember, SMART goals are:
Specific
Measurable
Achievable
Relevant
Timely
Gathering data from your social analytics tools helps give you a baseline. This allows you to understand the picture of where your social media results stand right now. It also gives you a sense of how things have been changing over time. Use this information to create meaningful goals that challenge your team but are ultimately achievable.
Need some help setting meaningful goals? Check out our guide on how to set goals for social media.
2. Track and share your results
Social media analytics tools allow you to see how you're progressing towards your goals.
This is important information to share with your team, and with those in your organization who make budget and resource decisions. Showing that you're meeting your goals can help validate all the hard work that you and your team put into your social media work. Remember to celebrate these successes.
Sometimes you might struggle to meet your goals. This is a great opportunity to think about what additional resources or strategy tweaks could help get you to where you want to be.
Regularly tracking and reporting on key metrics ensures you spot any slides in your social activity early. Then, you can pivot your strategy or just dig deeper into the data to see what you can learn and what lessons can be applied.
3. Test and refine your strategy
Social media analytics tools give you a clear picture of which content works best and which falls flat. You'll also learn important details about your audience.
The rich set of data available through social media analytics allows you to see how well your social media strategy is working. You'll uncover new insights all the time. These will help refine the way you connect with your audience and make your work more effective.
Maybe you'll learn that your audience responds best at an unexpected time of day. Maybe you'll find out that they can't get enough of GIFs. Or maybe you'll discover that your audience on Instagram is fundamentally different from your audience on Twitter. Then you can think about how to target your content most appropriately for each network.
Free social media analytics report template
We've created a free social media analytics template you can use to collect data about your performance on the various social networks.
Bonus: Get a free social media analytics report template that shows you the most important metrics to track for each network.
For more information on how to share your analytics data effectively, check out our post on how to create an effective social media report.
Track your social media performance and maximize your budget with Hootsuite. Publish your posts and analyze the results in the same, easy-to-use dashboard. Try it free today.
The post 11 of the Best Social Media Analytics Tools (Free and Paid) appeared first on Hootsuite Social Media Management.